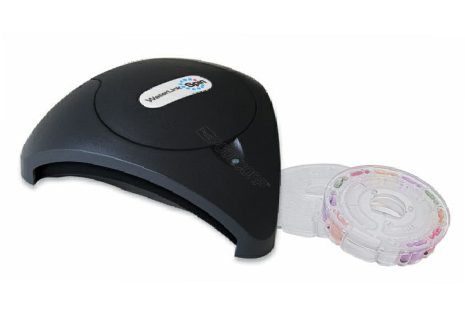 Summer Season
Summer is coming and most outdoor pool owners are getting their pools ready. Open your pool using some shock chlorine to kill any living matter before adding the NoMoreAlgae. We have reasonable supplies of Superfast Shock and our NoMoreAlgae. The shop is now open on Sunday mornings.
Water Balance should be checked and adjusted as necessary. Another wet winter can cause the Calcium Hardness and Total Alkalinity levels to become depleted unless a substantial amount of fresh tap water is added when opening your pool. A water sample will be required if you want us to check the balance for you. We can offer full Balance check, plus "Total Dissolved Solids" and a report using the Spin Photometer for just £5. The latest updates for the Spin have been installed with improved accuracy and includes test for phosphates. (Food for Algae) A quick check (non Spin test )is still free which is strongly recommended if you are just opening or closing your pool and not sure where to begin. Again a water sample will be required.
We know several independent pool engineers who can professionally open and close your pool as well as carrying out maintenance tasks, sand and liner changes etc, for you as required at realistic prices but all currently have heavy workloads .

Patio Cleaner
Our Liquid chlorine shock is a great product to use on patios and paths. Start with a 50/50 solution in a plastic watering can. Can normally dilute further if stains not too stubborn. Use stiff brush and leave a quarter of an hour or so and rinse area. Be careful if rinsing with a pressure washer as grouting maybe dislodged.
Very Important! Wear old clothes, no matter how careful you are tiny splashes will ruin your cloths. Eye protection (goggles) also recommended. Good idea to use up old product for this purpose leaving the fresh supply for the pool.
Now £36.00 for 20 Litres (energy intensive product)
Currently we have limited fresh stocks
The Waterlink Spin Photometer
We can't believe we have been using our old Waterlink express photometer for over 20 years now. It was "state of the art" at the time but now this latest updated version offers much greater potential accuracy in less than half the time. The same 8 tests are are carried out plus phosphates using just one disc.
The checks are for Free and total chlorine - sanitation
pH, Total Alkalinity, Total Hardness - for Water Balance
Cyanuric Acid, Copper and Iron - chlorine stabiliser, metals and phosphates.
Phosphates - Food for algae, often added by Water Board to combat metal from aging pipe work
We think it fair to charge a nominal £5 per test set (all 9 tests)
New software and firmware updating the original Spin has now been implemented. Phosphates are now included in the tests and overall accuracy has been enhanced
NoMoreAlgae
Use this product to keep your pool clear all Summer One bottle per 10,000 gallons or 50m³ £16
First check pH adding some pH reducer if over 7.6. Shock pool with liquid chorine or Superfast Shock and brush walls and floor. If chlorine level is around 10ppm 24 hours later then add NoMoreAlgae. If pH was over 7.8 then more pH reducer will probably be required. Note that high chlorine levels can interfere with pH readings so wait until chlorine readings are less than 10ppm..
Very wet weather may have lowered the overall water balance on outdoor pools making the water more aggressive - see below.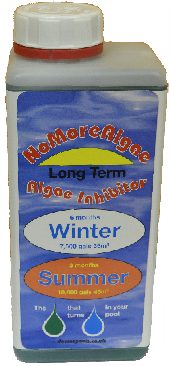 Fi-Clor Pool Care Centre
We are pleased to have been stocking the new Fi-Clor Premium 6 chlorine tablets exclusive to Fi-Clor Pool Care Centres. Only available in 5Kg pack size, these new 250 gramme tablets will give your pool sand filter a boost each time new tablets are added. Feedback so far has been very positive, these tablets are making pool maintenance easier and results even better!
At £68 they are only slightly more expensive than 5Kg Premium 5 Tablets,
Feedback received from users so far has been very positive!
New Fi-Clor HTH Advanced Cal Hypo Tablets.
New hexagonal slow release tablet ideal for indoor pools and overstabilised pools. 5Kg tub £59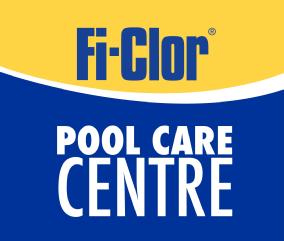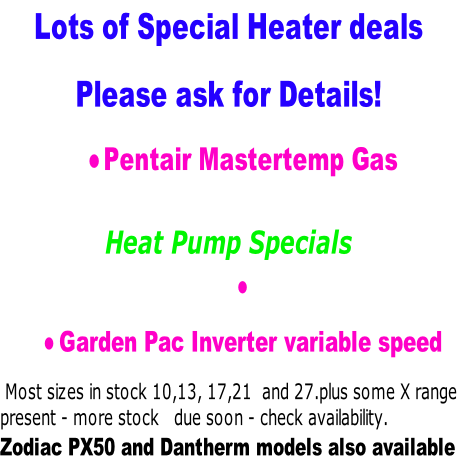 Variable Speed Sta-Rite
We have a limited number of these super efficient pumps in stock at the very special price of £990. New Mk2 version with improved clock programmer, 10RPM increments + watts display now in stock at £990
New more efficient permanent magnet motors run much cooler. The slower running speeds use much less electricity for slightly reduced water flow. Ideally needs a 24" filter with 1HP pump (½HP min) to make real savings. This pump is a must if you have a Heat Pump or run pump 24 hours a day. Special settings required if used with 19" filter tank (priming)
Please phone us for advice or visit:-
https://www.https://www.pentairpooleurope.com/sites/default/files/2021-07/TS_LA%20STA-RITE_VS2_en.pdfSTVS2_Rev._01-_18.pdf
Summer

Hours
9.15-6pm Weekdays
9.15-1pm Weekends